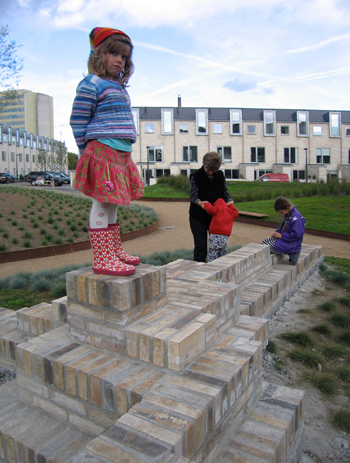 There are 4 brickwork furnitures on the Green.
They build on the Green and emphasize its geography. They "comment on" each other as well as on the new city surrounding them.
And they are furniture for area residents and passers-by. Furniture to sit on and use in many ways, depending on age and inclination, furniture for both play and rest.
Valby have is a new building complex in Valby, Copenhagen, consisting of both row houses and low storeyed buildings. In the middle of the built-up area a green is situated.
For this green I have done 4 city furnitures in brickwork.
These furnitures are inspired by the surrounding buildings and improvise the city's landscape.
They are shaped as small universes in brick, produced in the same bricks as the surrounding houses, accentuating some of the possibilities of brick, constructivly and spatially. They are produced in a design that is characteristic of tiles; known from e.g. the free-standing masonry wall and the brick laid staircase - the small displacement, an emphasis of light and shadow, the spatial impression of displaced cubes. The furniture is quite low, starting (or ending) as low long "arms" extending beyond the Green and disappear into the ground. In the center the little brick universe is unfolding its landscape.